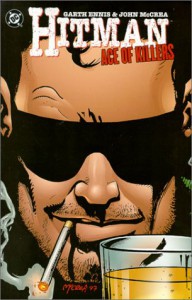 What can I say about these comics? They have been consistently good from the start. You can tell that Ennis cared so much for these characters. They feel like people you could have in your life—if you overlook the fantastic elements that these books incorporate. Cut me some slack. They do still live in Gotham City. The stories are great, but the characters really make these books for me. They feel so true. They're so well fleshed out and written with such dedication and obvious love.
I think this one is probably one of my favorites in the series because Deb and Tommy finally go somewhere with their relationship. And I really like how it was Tommy who set aside the gloves and said that one of them had to stop pretending instead of turning Deb into a quivering female mess and making her fall over into Tommy's arms. Deb is such a great character, showing time and time again that she can hang with Tommy without him having to worry about protecting a dizzy female.
I also liked seeing "Section 8" (a bootleg version of the Justice League) in action again. They're repulsive and wrong on so many levels, but so much fun to have in the series. Catwoman was also in this particular arc helping out the gang, and the men acted how I'd expect men to react to her if she were a real person.
Overall, I am still loving these books, and it really does make me sad to know that this is given a definitive ending.